You know you've been there, you've just settled into your seat for that long flight when you detect a strange and unfortunate odor. Luckily, today's Los Angeles Times has a short Q&A on how to survive that flight next to your smelly seatmate. Some of the tips include placing a little VaporRub or Tiger Balm under your nostrils or asking the crew for a coffee bag to sniff during the flight.
On a recent Delta A330 flight from JFK – ATH, I had a double whammy, a smelly and sick seatmate. Not only did this woman smell horrible, but she was constantly coughing and sneezing without covering her mouth or nose. We were in the bulkhead section of business class and there were no additional seats, not even in coach.  Without even mentioning anything, the flight attendants and purser took immediate pity and quickly developed a two step approach in the galley.  First, they brought over about seven blankets and we created a cave of sorts, attaching the blankets to the bulkhead and completely blocking her off from my window seat.  They then gave me two extra toothpaste tubes and advised that I place some on my lips and let the smell filter up (warning, this begins to sting after a few minutes)! I was lucky in that the bulkhead window seat allowed for a suitable blockade for the 9+ hour flight, though the best approach would have been discovering the problem before leaving the gate.  Unfortunately, I took my sweet time in the lounge. As per the article, several airlines have policies that allow flight crews to deal with such problems if brought to their attention in a timely fashion prior to departure.
This post reminds me of my last dirty passenger entry titled …and I thought some of my seatmates were gross, check out that post as there have been several ridiculous updates in the linked Hall of Shame: Photographic Evidence of Disgusting Acts by Delta Air Lines Passengers forum.
Good luck on your next flight!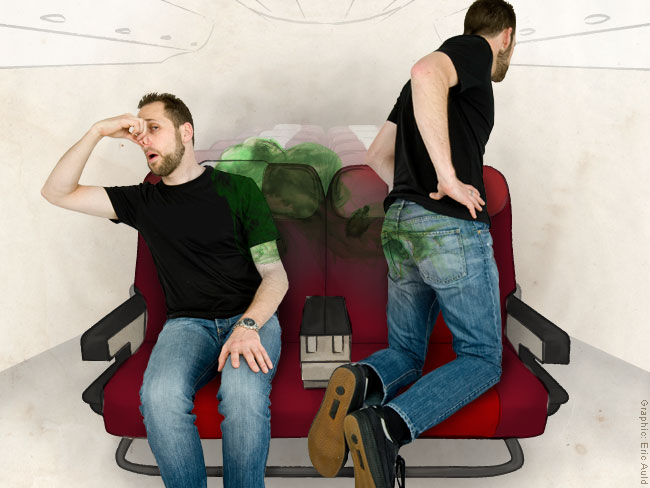 The responses below are not provided or commissioned by the bank advertiser. Responses have not been reviewed, approved or otherwise endorsed by the bank advertiser. It is not the bank advertiser's responsibility to ensure all posts and/or questions are answered.