British Airways is in the midst of a massive fleet renewal program to install a long-awaited (and much overdue) business class seat, the Club Suite. The airline has already announced that it will install the new seat in phases, with ~80% of all long-haul planes equipped with the Club Suite within three years.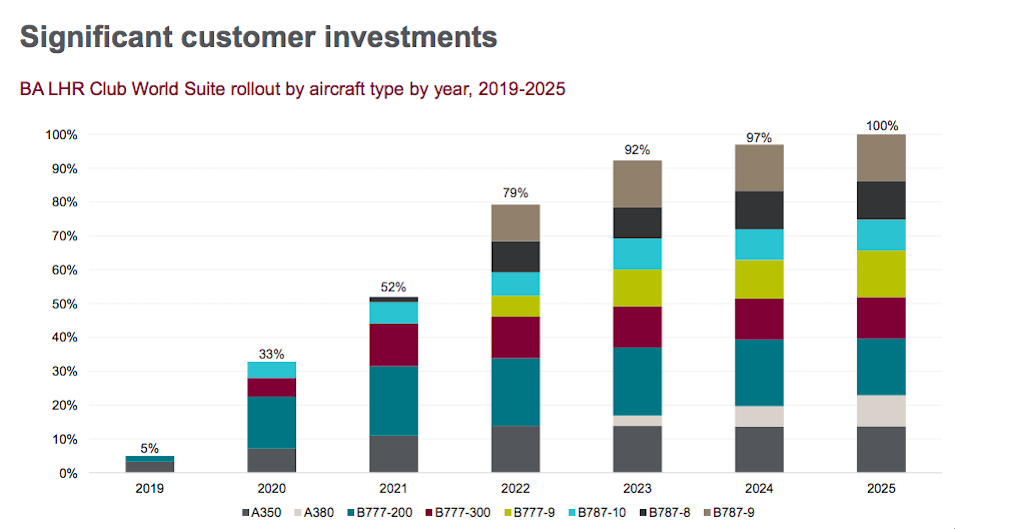 However, British Airways operates a variety of aircraft, so it can get confusing whether or not you'll the Suite. Here's what BA flies long-haul:
Airbus A350 (rolling out now with the Suite)
Boeing 777-200 (in process of getting refurbished with the Suite)
Boeing 777-300 (soon to be getting refurbished with the Suite)
Boeing 787-10 (soon to be delivered with the Suite)
Boeing 747 (soon to be retired and not getting the Suite)
If you're on an Airbus A350, great, you'll definitely get the new seat. On a Boeing 777-200? Check the seat map. (1-2-1 configuration in business means you're on a newly configured plane).
Then, the 777-300 (there's 12 of them now) will have the first plane with the Club Suite coming back on line by September 2020.
The Massive 777-300 Club Suite Cabin 
Overnight, British Airways uploaded a bunch of schedule adjustments for spring and summer 2020 swapping out planes for ones that have the new Club Suite. We also now can see what the 777-300 seat map looks like.
Similar to the updated Boeing 777-200, the 777-300 reduces first class from 14 seats to 8 seats. However, business class goes from an already large 56 seat cabin to a whopping 76 seats. That comes at the expense of economy, which not only reduces the overall number of seats, but goes from a 3-3-3 configuration to the now pretty much standard squeezed 3-4-3.
First Class: 8 seats
Club Suite: 76 seats
World Traveler Plus (Premium Economy): 40 seats
World Traveler (Economy): 130 seats
This is BA173 from New York to London on September 30, 2020.
First Class & Club Suite Seat Map:
Here's the premium economy and economy cabin: 
British Airways probably sees these 777-300's as a replacement for the super high-J Boeing 747s which will be phased out within the next few years. Those planes have 86 business class seats.
Needless to say, you'll want to check the seat map for your flight to make sure it matches a Club Suite configuration since that's a vast improvement over the current Club World seat. However, the schedule remains subject to change.
H/T: Danny Lee 
The responses below are not provided or commissioned by the bank advertiser. Responses have not been reviewed, approved or otherwise endorsed by the bank advertiser. It is not the bank advertiser's responsibility to ensure all posts and/or questions are answered.