There's something about all this frequent flyer business that can make the best of us a bit picky. Today's case in point is the most prevelant but often-hated business class seat (a.k.a. Delta One) in Delta Air Lines' enormous fleet. Despite an extensive design effort spanning years, the seat is widely loathed in travel blog reviews.
Of the 868 aircraft in Delta's fleet, 147 of them are long-haul wide-body jets. These are airplanes with two aisles that fly long, long routes, like Detroit to Tokyo, Seattle to Shanghai, Portland to Amsterdam. All of them have flat-bed business class seats.
Of those 147 jets, 77 are Boeing 767s, which feature seats that convert to flat beds that look like this:
I'd surmise that, to the 95 percent of the traveling public who have never experienced the sensation of flying-while-supine, this picture looks pretty nice. Among the five percent who have, the reviews are punishing.
"The staggered business class configuration offered by Delta on the 767 is one of my least favorite out there." – Lucky at One Mile At A Time.
"The seat width and slight slant made me feel like I was sleeping in my own coffin," – BumpMeVoucherMeATL on FlyerTalk.
"Width matches the 21″ we got in Virgin Atlantic's Premium Economy on our return so it's tough to be impressed." – Jake Redman at Modhop.
In other words, the expensive business class seat that you're most likely to find on one of the United States' top-rated airlines is also supposedly the worst.
Curiously, one travel writer who hasn't totally knocked the 767 seat is Brian Kelly, also known as The Points Guy. Kelly is six-feet seven-inches tall. He flew from New York to Africa in the controversial seat two years ago, and for the most part loved it.
"My seat was really comfortable," he wrote. He said the seat was a bit tight in the bed position, but he slept for 5 hours. This from an individual who is taller than many NBA players.
So what's going on here? I had suspected for awhile that this might actually be a bizzare case of group think. An airline with such resources shant have installed such a preposterous luxury seat on a modern jet airliner.
I had previously flown in three of the other common Delta business class configurations, the herringbone seat onboard the airline's Boeing 777s, the reverse model used on the Airbus A330s and Boeing 747s, and the side-by-side flat seats on some 757s.
I had not, however, flown in Delta One on a 767, so I entered my recent 9-hour Honolulu to Atlanta flight with a sense of great intrigue and suspense.
Booking
At the conclusion of a downright lovely two-week island swing through Hawaii and Oahu, I was booked in economy to return home to New York City on a brutal 757-300 connection that put me on a 5-hour redeye from Seattle to New York.
That itinerary was a good price, at $248 one-way, but I wasn't too keen on the seating accomodations and timing. I took advantage of a few Platinum Medallion frequent flyer benefits to do some last minute maneuvering into this flying sleeper sofa.
I could not have earned Platinum status without the boost I got from the Gold Delta SkyMiles Credit Card from Amex, which netted me an extra 10,000 qualifying miles after I hit a spend threshold, and also waived the so-called Medallion Qualification Dollar requirement normally needed to reach that status level.
That was enough to bump me from gold to platinum status this year. At the time I signed up for the card, I also netted a 70,000 mile intro bonus after I spent $3,000.
First, I checked Delta's available connections using a quick flight search, and saw that on the same day they were operating flat-bed Boeing 767s between Honolulu and Atlanta, Minneapolis and Los Angeles.
Right as 24-hour check-in opened, I picked up the phone and dialed the Platinum Desk. After a brief hold, I told the agent exactly what I wanted: a flat bed to sleep in so I could return to work in a sentient state the next day. She empathized.
I told the friendly agent about the three flights I found, and she checked to see if there was available space to do a same-day complimentary schedule change (another perk available to Gold and Platinum Medallion frequent flyers). The agent found just one available Delta One seat — on the HNL to ATL flight — and there were other Platinums and Diamonds already ahead of me on the waitlist to upgrade.
That was my cue to pull a third frequent flier trick out of my bag: I told the agent I'd like to apply a Regional Upgrade Certificate, a gift offered to Platinum and Diamond status holders. The certificates will escalate a seat upgrade on flights within the United States, Canada and Central America.
In situations like this, a Regional Upgrade may lead to two different outcomes. If Delta happens to have "upgrade inventory" in the cabin, the certificate will immediately clear a passenger into the premium cabin. On Delta One flights, the premium upgrades are coded as the "OU" fare bucket class (on first class flights the code is "RU"), though this information no longer does us much good given that Delta no longer makes these inventory buckets available through the internet. A phone call to Delta is the only option.
Otherwise, a certificate will move the passenger to a priority waitlist, ahead of the waitlist used to process complimentary upgrades.
To both my surprise and the surprise of the agent, the computer immediately moved me into a DeltaOne seat. It took a few minutes (more like 20, actually) of holding while the agent reissued my ticket, but I hung up having not only resolved an unseemly flight schedule, but with a bed to rest my head on that night.
At just a hair under nine hours, the Honolulu to Atlanta flight is currently the longest Delta flight on which a Regional Upgrade Certificate is valid. Sitting with my surf board on Waikiki Beach, I was pretty stoked about this upgrade.
Check-In and Boarding
I don't check bags unless I have to. My suitcase was mostly full of shorts and sand, so I skipped the empty Sky Priority check-in counter and proceeded to an also empty TSA PreCheck line.
A terrible traffic snarl outside the airport had me running a bit late, and I had only 10 minutes to enjoy the small but eclectic Sky Club at HNL, one of the most charming in the system. There was dark wood and guava bread. The lounge attendents were exceptionally cheerful. I sensed a real "mahalo" vibe going on that I was sad to leave so hurriedly.
My flight was on a 767-400ER, the largest variant of the Boeing 767. Carrying 246 seats, including 40 of the flat-bed variety. It's a big plane, and this created a bit of chaos inside the cozy Honolulu terminal.
Boarding had already commenced and passengers swarmed haphazardly about the gate area. After dodging and swerving around the crowd, I made it through the Sky Priority lane and found my way to an already full DeltaOne cabin.
After boarding I was handed a yellow drink. It was a strange, strange thing. It contained some form of stiff booze though, which was reason enough to ingest it.
Cabin
Given that I was assigned the last available Delta One seat (for which I paid $248 and not a cent or mile more) I didn't really have a choice on seats and I really didn't care. I was in 10D, one of the most maligned business class seats in the entire Delta fleet. It has one window, whereas most of the other seats have two windows. Good thing I'd already soaked up a lot of Vitamin D.
Delta's 767 business class seats are staggered against one another. This is the design trick that allows everyone to lie down, as each passenger's feet tucks neatly into a cubby that is beside the seat ahead, forming a sort-of nightstand for the passenger in front. In this configuration every passenger can access the aisle without having to overcome an obstacle like a sleeping pair of legs, tray table, laptop or foreign snack mix wrapper littered on the floor.
The staggered layout means that some of the seats rest along the aisle, and others along the windows or center of the cabin. Seat 10D is one of the aisle-side seats. According to some reviews I've read, this seat was to feel as if "I was sitting in the middle of the aisle."
Once I got settled in, I medidated a moment to see how in touch I felt with the aisle. I contemplated passing carts, plowing directly overhead as I lay helpless in a Nyquil-induced stupor. When I opened my eyes, however, I was overcome by a surprising sensation that I was not in the aisle at all, but rather in a seat next to the aisle. This sensation did not pass, but remained constant throughout the flight. I blame the armrest, which I estimate was about three inches thick at its widest point.
Perhaps, I thought, hyperbole really has taken an outsize role in our national discourse. The curiosities and surprises did not stop at boarding, however.
Seat Situation
My seat was adorned with many of the features and gadgets that I've experienced in other business class seats. There was a cubby where my feet would soon rest, large enough to stow a backpack during takeoff. To my right was a personal reading light, a nightstand that had a tray table inside, and buttons that allowed me to move the seat in all directions.
In front of the cubby/nightstand there was a patch open floor space, which provided a convenient nook to store my backpack once I needed the footwell for my feet.
One design element that I found rather peculiar was the tray table configuration. Unlike some tray tables, which slide narrowly out of a compartment next to the seat, these tables were folded away horizontally inside the nighstand. This meant that the nightstand had to be mostly cleared during tray table deployment or retraction. I chalked it up to an unforgiveable oversight.
Each seat came with a Tumi amenity kit.
The kit held the Kiehl's No. 1 Lip Balm, some facial moisturizer, a toothbrush with toothpaste, mouthwash socks, and eye mask, ear plugs, tissues, hand sanitizer and a pen.
There were also LSTN noise cancelling headphones, a Westin branded blanket and a pillow, adequately slightly smaller than the ones I'm used to at home.
The seat itself was actually the best-padded business class seat I can remember. Delta's A330 seats and American's 777-300ER seats were both slightly too firm for my taste, and I found the SWISS Business throne seat disturbingly hard in places. Perhaps it was better broken-in, but this DeltaOne seat felt supple by compare. United's slanted business class seats, those used on the Dreamliner, are similarly padded.
The coffin-like footwell was surprisingly standard, based on my prior experiences with business class seats. I'd estimate that the footwell was not significantly smaller than the one I enjoyed on my bulkhead SWISS Business throne seat.
I am six feet tall and wear size 13 shoes. I slept like a baby both on my back, and on my side, albeit with the help of my preferred over the counter sedative.
Meal Service
This flight was catered as a domestic first class flight, so this was not a normal Delta One meal service, though we were presented with the Delta One stylized menus.
There were three dinner options, Big Island (hmm) short ribs, calamansi chicken and pene rigatta pasta, served alongside a lemon shrimp appetizer and something called a mango radicchio caprese salad. I found this label puzzling, as neither mango nor radicchio are ingredients in caprese salad.
Post-departure snack service consisted of a pack of nuts, akin to the Delta Comfort+ offering. This was a nasty portends of food to come.
Beverage service was also somewhat curtailed on this flight compare to the other DeltaOne trips I'd taken. There was only one white and one red wine available.
I oredered the chicken, because the other two options were exhausted by the time the flight crew reached me. Another reminder that this was domestic flight, despite the transoceanic duration.
As with most airline meals I've had, I don't really remember how the food tasted. Everything usually falls somewhere between good and okay, though on this flight I remember feeling more okay about my meal than good.
Airline meals are tortured subjects. They are made in a hurried mass inside industrial scale kitchens, then packed into trucks, accelerated to super-human altitude and re-heated in zero-humidity ovens.
Unlike a true international business class service, all of the courses were served on a single tray, including the shrimp and mysterious radicchio and mango infused caprese salad.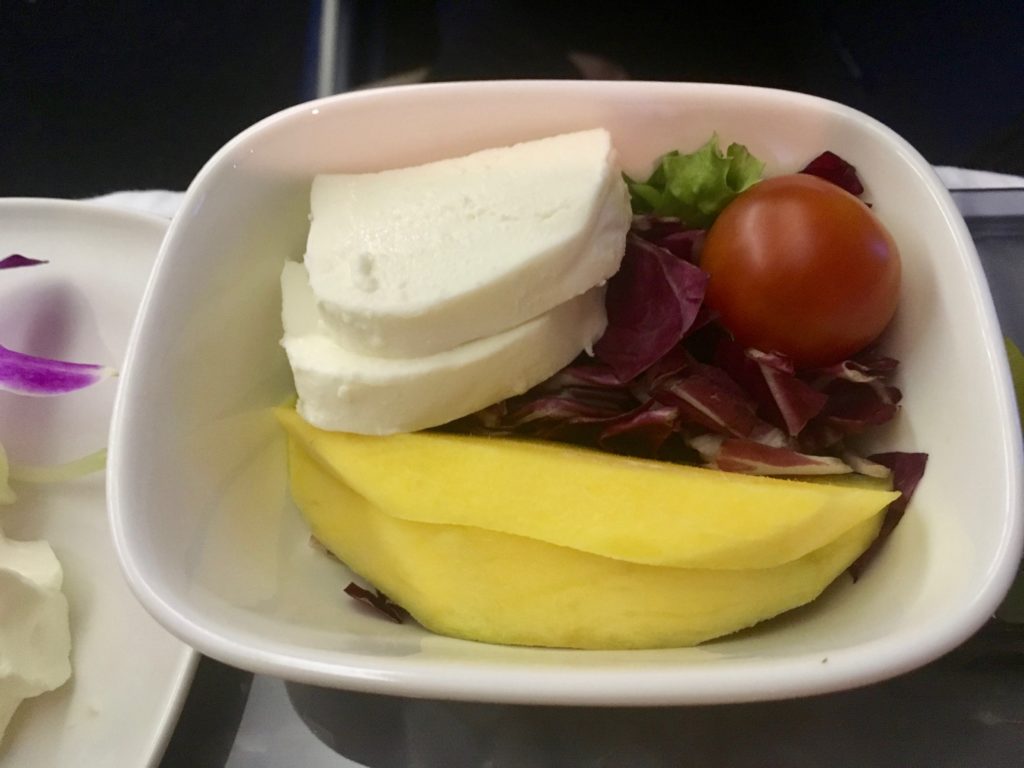 Dessert was ice cream, which I've had before but didn't have this time. Sleep was a greater priority and the meal service took about 90 minutes from the rapidly diminishing night.
About an hour before landing I awoke to the smell of omelet. There weren't actually omelettes on board, but something called "pork chorizo and scallion omelet flat bread sandwich."
Delta's culinary team has a remarkable talent to turn one food into another unrelated food. In this otherworldly environment, mango and radicchio are given a second life as caprese, and an omelet undertakes a transformation into something that is decidedly not an omelet.
If I were planning this menu I might have called it a breakfast sandwich, but then Boarding Area reviewers wouldn't have so many things to contemplate and remark over.
Since I mostly avoid meat, with the exception of seafood, I ate the other thing, which was smoked salmon and egg salad, served next to capers, little pancakes (huh?) and some tomatoes and cucumbers. I'd never before experienced this particular arrangement of foods on a single plate.
The salmon and egg salad and tomatoes and cucumbers were mostly frozen when I got them, so I didn't taste much at all. I did learn that salmon isn't a very adaptable ice cream flavor, even when paired with egg and capers.
Entertainment and Internet Access
The cinematic sitaution is another oft reported inadequacy of the Boeing 767 DeltaOne experience. Delta's seat has a monitor of some dimension, I'd guess somewhere between 13 and 14 inches, that is somewhat smaller than monitors on some other business class seats.
If anything, I'd say the screen was a hair dim, even at full brightness, but I enjoyed watching several episodes of Genius.
Genius is a drama series about the difficult life of Albert Einstein that I only watch on Delta flights. It's really great, and I've attained many inspirations about Einstein during the series. I've learned on Delta that Einstein was stateless, was rejected by multiple universities as a young man, and had an ambitious and free-spirited romatic life that alienated him from his family. Even after he became an esteemed physicist, the Nazi regime terrorized him from his home in Berlin. His refugee claim was initially rejected by U.S. immirgation authorites. The series really puts my own problems and triumphs in perspective.
The LSTN headphones have also been the source of much angst in the frequent flier community, but I found that they cancelled a good bit of noise and provided a clear, loud depiction of the audio track accompanying Genius. The sound profile was exceptionally bass-heavy, and I would not buy these headphones for more than around $20 at a market. I also would not go out of my way to pack my own headphones onto the plane. As my mother would say, "oh come on now, they work just fine."
That said, the noise cancelling headphones I enjoyed on a China Airlines Premium Economy flight were unquestionably superior. Perhaps Delta's sponsorhship will allow LSTN to pursue further reasearch and development, and even buy a couple vowels.
The WiFi was provided by GoGo. It didn't really GoGo very fast, though I got it to send an email at one point. Everyone who's tried it seems to agree that Delta needs to update the old GoGo wifi. Unlike the internet on this flight, they should probably hurry.
Landing and Arrival
The morning meal service was wrapped up just as descent began, which is how all morning meal services should be.
We descended into a thick fog in Atlanta and pulled up to a very grey airport terminal. As they deplaned from the second door, behind the business class cabin, I was among the first off the plane.
As a connecting Delta One passenger, I was admitted to the Sky Club in Atlanta Hartsfield International Airport Terminal E, with ample showers and some food. Caveat on this specific club: the food island was unfortunately central to the entire traffic pattern in the club, and was a perpetual disaster remniscent of a Manhattan sidewalk (if the sidewalk had a buffet on it).
There was hot food including eggs and bacon, and a selection fruit, salads and hors derves. For those needing an eye opener, self-serve liquor was available. The wifi was decent.
A few hours later I was on an Airbus A321 to New York Kennedy.
The Upshot
For all the belly-aching and anguish over this very common Delta Air Lines business class configuration, I found my experience in seat 10D to be incredibly enjoyable.
The seats are among the best you'll find on a Boeing 767, which is narrower than other wide-body aircraft. The dimensions aren't as large as seats on other planes, but I slept horizontally, without interruption, and was all the better for it.
Sometimes group think does take over in situations like this, as one bad review may perpetuate several more. In my recent experience, Delta's 767 business class cabin offers fine portage, suitable to any route the plane may fly, up to 12 hours or so.
If I had the option to choose one of Delta's other widebodies, with Delta One seats of greater numerical dimension, I would. But sheesh, it's a bed on a plane.
On a downbeat, the crews on Hawaii flights tend to be unreasonably surly, and this flight provided no exception. The food was absolutely unmemorable, though of all the aircraft flying east out of Honolulu, mine probably was the most intricately catered (sad).
When will airlines start treating Hawaii as the world class destination it is?
John Harper is executive editor at Point Me To The Plane. He travels over 100,000 miles per year on business and leisure, and works as an awards expert with Juicy Miles. 
The responses below are not provided or commissioned by the bank advertiser. Responses have not been reviewed, approved or otherwise endorsed by the bank advertiser. It is not the bank advertiser's responsibility to ensure all posts and/or questions are answered.