Meditate and watch the clouds float by, or follow-up on some of the 13,457 unread emails in your inbox? Flying can be a temporary escape from the chaos on-the-ground, but in this day and age, many flyers expect to have at least the opportunity to stay connected to Wi-Fi. Airlines free wi-fi? Yes, please!
Do Planes Have Wifi?
Many travelers ask is there wifi on planes? During flights it's often necessary to catch up on work. Or maybe you just want to relax and catch up on your favorite shows or movies. No matter the reason, wifi on planes is something you would use and enjoy.
There are plenty of strategies to nabbing free Wi-Fi on flights, from freeloading on a friend's Wi-Fi pass to using a card, like the American Express Business Platinum Card, that includes 10 free Gogo Wi-Fi passes each year.
Want the discounts, welcome gifts, room upgrades, and hotel credits a travel agent can get you? I sure do. Here's the travel advisor I use to get the best deals, lowest prices, and personalized service.
Is There Wifi On Planes?
Yes, but not on all planes or offered by all airlines.
However, 11 airlines around the world now offer free Wi-Fi to all passengers—yes, even in economy. These are JetBlue, Air New Zealand, Norwegian, Qatar, Emirates, China Eastern, Philippines Airlines, Qantas, Hainan, Nok Air, and Aer Lingus. Even more airlines provide free connections to international business and first class passengers.
Pro tip: Keep your personal information private! Here's the easiest way to stay protected.
The List of Airlines With Free Inflight Wi-Fi
JetBlue Airways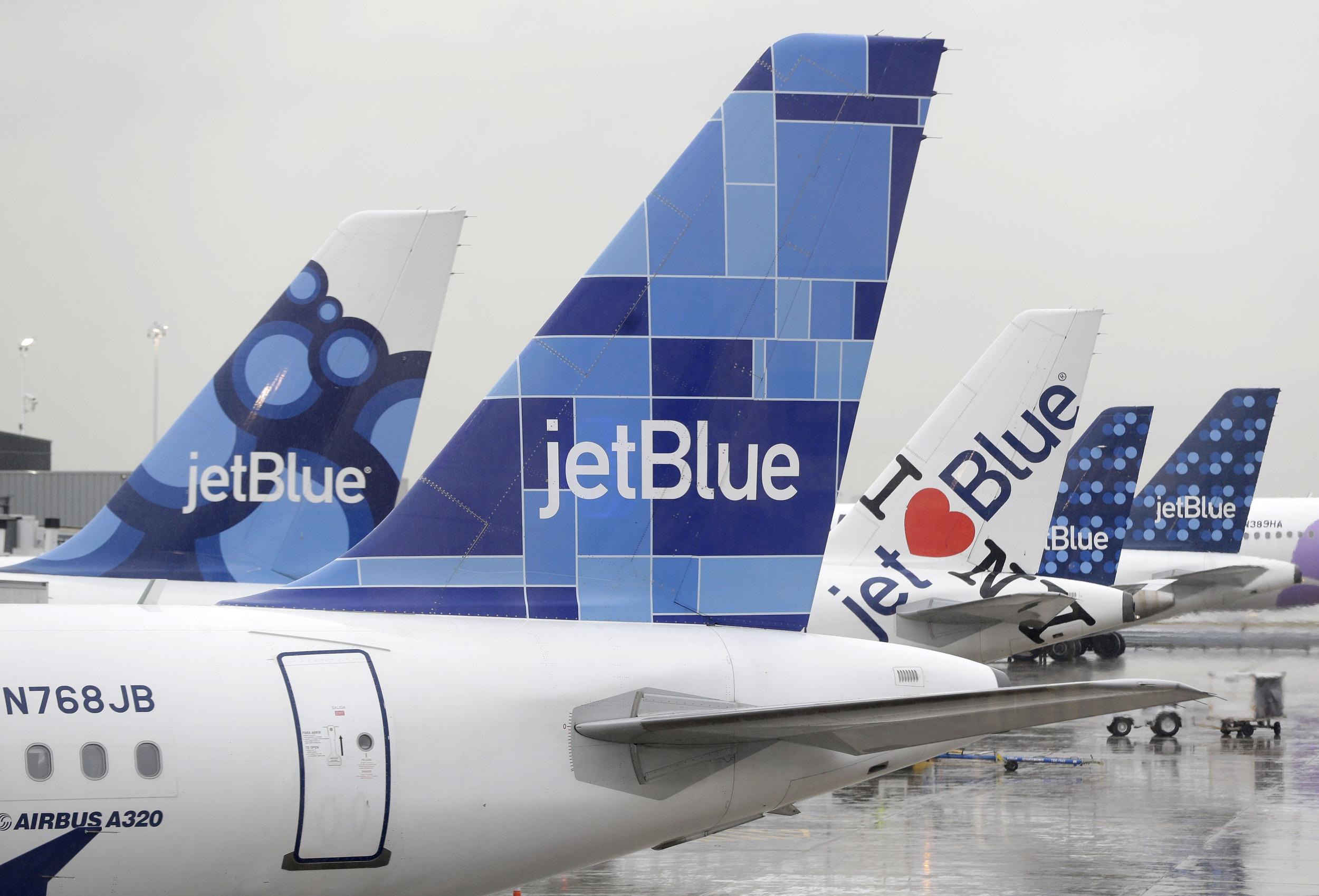 The only US airline to offer free Wi-Fi happens to also be the only airline in the world to provide unlimited, gate-to-gate service at every single seat. The entire fleet is equipped with "Fly-Fi," in partnership with Amazon Prime. With the collab, JetBlue customers can stream Amazon Video and other content through Fly-Fi on personal devices. JetBlue promises download speeds of up to 20 Mbps, way faster than most other airlines.
Norwegian Air Shuttle (Within Europe Only)

While Norwegian Airlines might be synonymous with low-cost, they surprisingly offer unlimited free Wi-Fi on their shorter intra-European flights. It is noteworthy that Norwegian's transatlantic flights do not  offer Wi-Fi, paid or not, though the airline is engaging in plans to install free Wi-Fi fleet-wide, eventually.
Qatar Airways

Qatar Airways is known for their amazing business class products including the highly-regarded QSuites, but there's a lot less chatter about the airline's economy experience. Everyone onboard, including those in back, get 15 minutes of free Wi-Fi or 10 MB of data, whichever comes first. Pittance.
Qatar's Wi-Fi service is provided by OnAir—a provider that is known for oppressive data caps and expensive, slow service.
Once you use up your little 10 MB taste, there are several tiered data options to choose. None are enough to comfortably surf without fear of quickly reaching a cap.
Thankfully, Qatar is also testing out a new Wi-Fi service dubbed "Super Wi-Fi" onboard select Boeing 777-300's. An entire hour is free on these flights.
Emirates Airline

Another Middle Eastern airline makes the list. Emirates offers three Wi-Fi plans to choose from.
Are you an Emirates Skywards Member? Emirates Skywards members can take advantage of free Wi-Fi services.
To use the free Wi-Fi services, you must add your Emirates Skywards membership number to your booking at least 24 hours before your flight. Add it on the Emirates App or through their Manage section online.
However, the issue isn't with availability so much as speed. Emirates is known for slow, almost unusable Wi-Fi speeds. Your mileage may vary.
China Eastern
This one comes with a bit of an asterisk, as China Eastern's free Wi-Fi policy is a bit convoluted. Registration is done in advance online, is limited to 100 passengers per flight, and is subject to China's "Great Firewall," blocking most social media sites and Google.
China Eastern has said its free Wi-Fi has been in "test phase" on their website for at least the last two years so who knows when they'll pull the plug. And keep in mind mobile phones (even if in airplane mode) are sometimes not allowed to be used onboard Chinese airlines, including China Eastern.
Philippines Airlines
Philippines Airlines provides 30 minutes of Wi-Fi or 15 MB, whichever comes first to all of their customers. However, it is only available on select international aircraft, including most A330s, 777-300s, and all of their forthcoming A350s which will be serving Manila to London and Manila to New York routes.
Qantas 
Qantas has several dozen domestically configured 737s and A330s with free Wi-Fi for all. They will continue to expand their Wi-Fi reach in the coming years with international flights expected to have Wi-Fi by 2021.
Hainan Airlines
As of March 2018, mainland Chinese carrier Hainan offered 130 MB of free Wi-Fi for all customers onboard their 17 787-9's, accounting for 30% of the airline's wide-body fleet (and most flights to the United States).
Nok Air
Adorable Thai low-cost airline Nok Air, based out of Bangkok flying to 25 destinations, offers free unlimited Wi-Fi on all of their flights.
Air New Zealand
All Air New Zealand planes that are equipped with Wi-Fi have it for free. All of Air New Zealand's Boeing 777 jets are Wi-Fi enabled, which are typically seen on long-haul routes to the US and London. The airline's new Airbus A321neo jets now flying between Australia and New Zealand also have Wi-Fi.
Notably, Air New Zealand has yet to install Wi-Fi on their Boeing 787 Dreamliner fleet.
In order to give all passengers a fair share of bandwidth, there are things you can and cannot do on Wi-Fi.
You can do lots of everyday online activities on Air New Zealand's Inflight Wi-Fi:
Browse the web
Send and receive emails and messages
Check and post to social media
You'll find that uploading is slower than downloading.
Here's what you can't do online when you fly:
Make voice calls, even using an app
Make video calls
Download or update apps
Stream high resolution or full-screen video
Access cloud storage services
Play real-time multi-player games
View potentially offensive content, such as violent or pornographic video
Here's where you can check to see if your Air New Zealand flight has Wi-Fi.
Pro Tip: Be sure to get the best deals on hotels. If I'm paying cash for a hotel stay, I always use Pruvo to monitor for price drops!
Virgin Australia (Domestic Only)
Virgin Australia offers free in-flight Wi-Fi to domestic passengers within Australia while it's international fleet has a pay-to-play option.
Aer Lingus 
Aer Lingus became the first European airline to offer complimentary Wi-Fi to all passengers on transatlantic flights when it took delivery of its first Airbus A321LR jets in Spring 2019.
Now you can surf while you fly! Wi-Fi is available on the A330 and A321neoLR aircraft, and with the mobile network on A330 aircraft. You can purchase one of three data options for Wi-Fi and for the mobile network, standard roaming rates apply. Wi-Fi is complimentary with Aer Lingus Business Class fares. You can learn more here.
Honorable Mentions for Airlines Free Wi-Fi

While some airlines are generously offering the full capability of Wi-Fi, others have taken a different approach by providing free messaging on certain apps. These freebie options assume you either have an iPhone, Facebook's Messenger, or WhatsApp (and friends to talk to). Messaging services are free on:

The Upshot on Airlines Free Wi-Fi

Now you have the answer to the question is there wifi on planes. You also know that the answer to do planes have wifi is yes, depending on the airline, you can make an informed choice of which airline you'll fly,
It's an eclectic mix of carriers that offer free Wi-Fi. JetBlue still takes the reigns as the most user-friendly free Wi-Fi service with zero restrictions and departure gate to arrival gate usability.
Make no mistake, most airlines charge for Wi-Fi. The equipment has historically been expensive and run by a third party. However, new technology is making it more affordable for airlines, which view it as a competitive advantage. Delta Air Lines CEO Ed Bastian has spouted ambition to make Wi-Fi free on every flight shortly. In the coming years, we'll see more airlines offer free Wi-Fi and messaging services to customers.
I don't know of anywhere else besides in an airplane that you can't get free Wi-Fi. – Delta CEO Ed Bastian
Are there any other airlines you know of that offer free Wi-Fi, even in economy? 
Related Posts:
The responses below are not provided or commissioned by the bank advertiser. Responses have not been reviewed, approved or otherwise endorsed by the bank advertiser. It is not the bank advertiser's responsibility to ensure all posts and/or questions are answered.